Either as regular maintenance task, or after an incident, to keep the availability of the Electrical Equipment or Automation System we repair or replace its components during planned outages including the planning of activities.
The hardware and software components of an Automation System may require updates after its time of operation. We apply such updates during plant downtime, including in-house activity planning and testing of the update. Software modifications required for compatibility to the update are also prepared, tested and deployed as part of the upgrade activities.
Electrical Equipment and Automation Systems may need to grow with new requirements, we plan and deliver upgrades of existing Automation Systems and Electrical Equipment to extend its functionality or adapt to changed requirements.
We plan and deliver installation of Electrical Equipment, Field Devices, Cabling and components of the Automation System including Networks. Installation also includes measurements and preparation of readiness for operation of the installed components.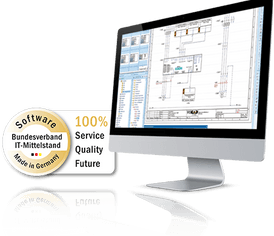 Industrial Automation Projects
Full project services across the project life time of Industrial Automation Projects: Assessments or requirements, Planning and Design, Engineering, Software Development, Build of Equipment, Testing, Installation and Commissioning. Including Project Management throughout the whole Project process.
Industrial Robot Integration
Integrating an industrial robot into an existing process does not have to be an expensive and disruptive procedure. Industrial Automation Solution can design, program and commission your automation project with the latest industrial robot technology. We have ROI tools to help calculate the Return On Investment. Contact us today.
With today's technology, integrating a robot into a current production line is more feasible than ever. The price of industrial automation equipment has been decreasing over the last several years and with current labor forces not being able to keep up with demand, robot integration has become a viable option for most manufacturing companies. At some point, the necessity for automation is inevitable. It isn't a question of if we should start integrating robots into the production line, but when ?
Reduce Labor Costs

Improve Efficiency

Improve Quality

Improve Traceability
How do you select the correct robot for the application ?
There are several questions that need to be answered before selecting a robot.
Is the robot going to interact with people ?

How much reach does the robot arm require ?

How much does the EOA (End of Arm) tool and part weigh ?

what are the accuracy requirements?

what are the speed requirements?
These are some of the questions that need to be answered before selecting a robot for an application. If you would like more information please contact us.
We develop, maintain and extend Application Software on various Automation Platforms and environments for integration of subsystems or to deliver partial or fully integrated Automation Systems.We are independent from any Original Equipment or Software manufacturer and are capable to work on these different Automation platforms:
We design, build and fully test control cabinets for Electric Drives, Electrical Equipment, Process Control Systems and Field Devices. This also includes replacement of outdated equipment.
Software for the complete SIMATIC series of PLC systems from S7/300 over S7/400 to S7/1500 and PCS/7, and visualization using WinCC.
Industrial Networks for control systems using Industrial Ethernet, ProfiNET, ProfiBUS and Network Security using SCALANCE network equipment.
Motion control on the SINAMICS or MICROMASTER platform.
We design & engineer electrical cabinets, Low- and Medium-Voltage power distribution systems and equipment for complete automation systems including networking. The related manufacturing documentation is created using mainly WSCAD, but we also are able to supply the electrical documentation on other engineering platforms. Standards used are all indian based standards including VDE with CE conformity, special standards like UL conformity are available on special request.
In-House Assembly Services
Our in-house cabinet, electrical and automation equipment assembly service assembles the cabinets and components of the electrical system and the automation system components. Itemized components may be supplied by you, 3rd parties or purchased through us.
All assemblies are tested and related documentation is prepared in accordance to the applicable and agreed guidelines and may also include CE conformity declarations or other conformity declarations provision by external entities.
Installation & Commissioning
Through our On-Site Services we also install, commission and put into operation the assembled and pretested electrical and automation system components and assemblies.
Our On-Site Services also install 3rd-party supplied electrical and automation equipment, provided the related installation engineering and manuals are provisioned.
In completion of the installation activities we also perform Field Testing, Commissioning and putting into operation of the installed components including furnishing of related testing and commissioning documentation.
We provide a complete portfolio of Services for Plant Automation and Plant Information Technology for Industrial Manufacturing.
From modernization and upgrades of existing Industrial Automation and Electrical Equipment to replace outdated parts.
Up to full Automation Projects with design, supply, installation and commissioning of a complete Industrial Automation Solution.
On-Site Service, Maintenance, Support and Equipment Installation of Industrial Automation and Electrical Equipment at Industrial Plants and Production Lines.
Modification, Modernization, Update or Revamping of Automation Software on Human-Machine Interfaces, Process Control and Process Optimization systems.
Design, build and full testing of control cabinets for Electric Drives, Electrical Equipment, Process Control Systems and Field Devices. Also as replacement of outdated equipment.
Our On-Site Services offer you our services directly on your premises, either in addition to your own electrical and automation staff or as external maintenance or automation service: